Home
Men ARE Images of God, Women are NOT - BECAUSE God is A STRAIGHT MALE - Women are HETERO, NOT Images
Modern Bibles are Made by Scholars who REJECT the Plain, Obvious, Bible Truth, God is a Male Person!
Christian Leaders Make Half-Hearted Stands Against Gay Life Style, Having Sold Out to God-the-Neuter
8 reasons 'transgenderism' is politics, not science - WND.com
Father's Day IS a Big Deal!
Sunday School Superintendent needed a male-role-model in her class - I prayed God's emergency help!
Christian Leaders Lie, Calling God "Father" Publicly But Holding Heresy Behind Backs of Church Folks
Australian Teachers To Lecture 4-Year-Olds on Sexism - (Jesus Christ PROVES God IS A Straight Male)
Obama Will Push Transgender, Gender Identity, Rules on all K-12 Schools - (EMERGENCY) Infowars.com
Gender CONFUSION Is Being Pushed on CHILDREN By GAYS - We MUST TRAIN Children to RESIST THIS EVIL!
Feminized Males Will Allow Muslims to Conquer Europe - Infowars.com Article and 2 Videos
Gender Roles: The Image of God and the Sin of Unisex
Seminary Grads, Taught God Has NO GENDER, Affirm At Ordination The Trinity: Father, Son, Holy Spirit
THOSE AMAZING AND WONDERFUL WOMEN
President Abraham Lincoln's Thanksgiving Day Proclamation
"HAVE WE RAISED AN ENTIRE GENERATION OF YOUNG MEN THAT DON'T KNOW HOW TO BE MEN?"
Provocative New Billboard Says, "Identical Twins: One Gay, One Not, We Believe - Nobody Is Born Gay"
EXODUS! RED SEA CROSSING! - SPECTACULAR PROOF! -THE TRUE CROSSING POINT! - NUWEIBA! - GULF OF AQABA!
What Happens When You Ask Male College Students To End Urinal Privilege? - Infowars video, article
CHRISTIAN CHURCHES & LEADERS SNOOKERED! SO BAD! - SMOKE & MIRRORS GALORE! - GOD-THE-NEUTER! - DECOY!
GENESIS 1:26, 27 NEEDS RESCUING - IT IS HIM! - IMAGE OF GOD! - NOT THEM! - FOLKS CONFUSE THE ISSUE!
HELL IS REAL! "BEYOND DEATH'S DOOR" - AN OLD BOOK BY DR. MAURICE RAWLINGS IS SOBERING - BIBLICAL?
THE GAY THING -- HOMOSEXUALITY -- IS AN ALL-OUT-WAR OF HATRED AGAINST GOD - GOD IS A STRAIGHT MALE!
Famous Atheists Give Their Testimonies, and One Other Kind of Guy Does Too!
"THEIR LAST FULL MEASURE OF DEVOTION" -- PRESIDENT ABRAHAM LINCOLN'S -- GETTYSBURG ADDRESS
Most So-Called Christian Marriage Counseling STINKS -- Jesus Said Beware the Leaven of the Pharisees
Loss of a Child - Heart Wrenching Agony - God Gets Us Through - Our Salvation Cost God His Dear Son!
REBELIOUS TEEN DAUGHTER - BABYS WITH MOMS AWOL- BLAME SHIFT TO DAD - DAUGHTER & DAD LOOSE EACH OTHER
DISHONOR OF A MAN WORKING FOR A WOMAN! - HOW TO HANDLE IT? -"USURP" IN 1TIMOTHY2:12 KING JAMES BIBLE
Gay Marines Kissing - Many Cheer This Vile In-GOD'S-Face Insult! IS God Kicking The Hell Out Of USA?
Ex - Penn State Coach Jerry Sandusky -- Part of Illuminati Pedophile Network -- Says HenryMakow.com
GLOBAL NETWORK ANALYSIS OF THE MOST POWERFUL TRANSNATIONAL CORPORATIONS SHOWS IMMENSE GLOBAL CONTROL
Favorite Links -- SEE MY YouTube VIDEOS TOO.
Contact Me - Ken Clark
test

There are many books detailing "clinical death," and "out of body" experiences by accident victims, heart attack victims, surgery patients, etc.
"Clinical death" means the heart and lungs have stopped, but tissue death has not yet occurred. They can often be resuscitated.
After about 4 minutes tissue death starts to occur. It is irreversible.
Clinically dead people report looking down at their bodies and they can later, accurately describe many details of the event, that they could not have known, otherwise.
This has got to be very weighty evidence -- their ability to describe many details of the happenings that went on while they were "clinically dead."
They could only have known these things if they were conscious and specially positioned to observe these things.
This, strongly corroborates their "out of body" accounts.
We must always go to the Bible for the real truth about things. -- We will.
The circumstances surrounding Dr. Rawling's situation are very compelling.
Dr. Rawlings practiced cardiology in the 1970s, about, -- before most modern equipment.
So we see him doing "mouth to mouth" resuscitation on patients who are "clinically dead." -- Successfully in many cases.
POINT IS - he is eyeball to eyeball with these situations -- in REAL TIME.
He says some, perhaps many, people, DO experience a terrifying HELL encounter while clinically dead.
Some people DO have a HEAVENLY experience.
It is critically important that these situations be assessed, as I say, eyeball to eyeball, in real time, as the event takes place.
Dr. Rawlings says, BECAUSE, the human mind tends to blot out these very very traumatic "hell" memories.
So that researchers, as in other books, who interview these people later, will completely miss out on these "hell" kind of reports.
Dr. Rawling's EXCELLENT on-line video and his more extensive book can be viewed here.
In Matthew 12:40 Jesus Christ (Son of man)says:
For as Jonas was three days and three nights in the whale's belly; so shall the Son of man be three days and three nights in the heart of the earth.
Interestingly, the Greek word for "heart" is (Strongs #G2788) kär-dē'-ä -- the same word as in cardiologist.
The Apostle's Creed (my page), or Creeds.net, likewise tells us of Jesus Christ:
he descended into hell;
ON THE BRIGHT SIDE, Jesus Christ had tremendously good news for the thief hanging on the cross next to him, who believed in Jesus -- Luke 23:
42And he said unto Jesus, Lord, remember me when thou comest into thy kingdom.
43And Jesus said unto him, Verily I say unto thee, Today shalt thou be with me in paradise.
Note: Modern bibles leave out the critically important word, "Lord."
The thief on the third cross, did not make the same request to the Lord Jesus Christ.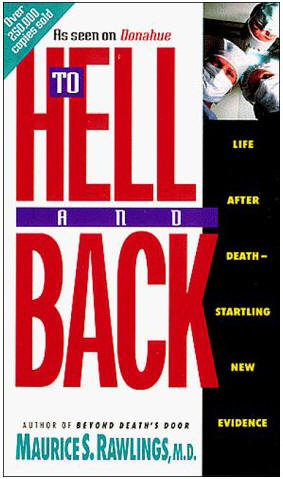 Note: The New Testament word "Gospel" means good news.
The good news is God has sent the Savior Jesus Christ and that we can be saved from hell by faith in him.
See my page They Came to Jesus for examples.
"Pit" is the word used, many times, in the King James Bible (KJB), Old Testament, for the place within the earth into which the dead descend.
A King James Bible search for "down to, or into, the pit" at Biblegateway.com or elsewhere, will show at least 17 results.
A search for "pit," 50+ results.
A prominent example is found in the Old Testament book of Numbers chapter 16:
Korah, and others were challenging the way Moses, and in fact God, were running things.
In terrible judgement (verse 30) they go straight down into the PIT.
27So they gat up from the tabernacle of Korah, Dathan, and Abiram, on every side: and Dathan and Abiram came out, and stood in the door of their tents, and their wives, and their sons, and their little children.
28And Moses said, Hereby ye shall know that the LORD hath sent me to do all these works; for I have not done them of mine own mind.
29If these men die the common death of all men, or if they be visited after the visitation of all men; then the LORD hath not sent me.
30But if the LORD make a new thing, and the earth open her mouth, and swallow them up, with all that appertain unto them, and they go down quick into the pit; then ye shall understand that these men have provoked the LORD.
31And it came to pass, as he had made an end of speaking all these words, that the ground clave asunder that was under them:
32And the earth opened her mouth, and swallowed them up, and their houses, and all the men that appertained unto Korah, and all their goods.
33They, and all that appertained to them, went down alive into the pit, and the earth closed upon them: and they perished from among the congregation.
34And all Israel that were round about them fled at the cry of them: for they said, Lest the earth swallow us up also.
35And there came out a fire from the LORD, and consumed the two hundred and fifty men that offered incense.
Ezekiel 28, is speaking of Satan, the Devil (verse 8 says his destination is - "down to the PIT"):
1
The word of the LORD came again unto me, saying,
2Son of man, say unto the prince of Tyrus, Thus saith the Lord GOD; Because thine heart is lifted up, and thou hast said, I am a God, I sit in the seat of God, in the midst of the seas; yet thou art a man, and not God, though thou set thine heart as the heart of God:
3Behold, thou art wiser than Daniel; there is no secret that they can hide from thee:
4With thy wisdom and with thine understanding thou hast gotten thee riches, and hast gotten gold and silver into thy treasures:
5By thy great wisdom and by thy traffick hast thou increased thy riches, and thine heart is lifted up because of thy riches:
6Therefore thus saith the Lord GOD; Because thou hast set thine heart as the heart of God;
7Behold, therefore I will bring strangers upon thee, the terrible of the nations: and they shall draw their swords against the beauty of thy wisdom, and they shall defile thy brightness.
8They shall bring thee down to the pit, and thou shalt die the deaths of them that are slain in the midst of the seas.
9Wilt thou yet say before him that slayeth thee, I am God? but thou shalt be a man, and no God, in the hand of him that slayeth thee.
10Thou shalt die the deaths of the uncircumcised by the hand of strangers: for I have spoken it, saith the Lord GOD.
With regard to Satan see my page.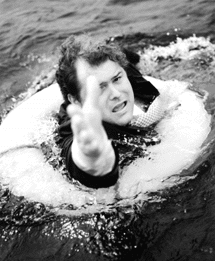 Note: The New Testament word "Gospel" means good news.
The good news is God has sent the Savior Jesus Christ and that we can be saved from hell by faith in him.
See my web page Jesus Gets a Visitor in the Night for details.
In the New Testament book, Luke, chapter 16, we have Jesus's lesson of Lazarus and the Rich man.
It is NOT said to be a parable.
Commentary -- Jamieson, Faucett, Brown (JFB) is very good as always.
19There was a certain rich man, which was clothed in purple and fine linen, and fared sumptuously every day:
20And there was a certain beggar named Lazarus, which was laid at his gate, full of sores,
21And desiring to be fed with the crumbs which fell from the rich man's table: moreover the dogs came and licked his sores.
22And it came to pass, that the beggar died, and was carried by the angels into Abraham's bosom: the rich man also died, and was buried;
23And in hell he lift up his eyes, being in torments, and seeth Abraham afar off, and Lazarus in his bosom.
24And he cried and said, Father Abraham, have mercy on me, and send Lazarus, that he may dip the tip of his finger in water, and cool my tongue; for I am tormented in this flame.
25But Abraham said, Son, remember that thou in thy lifetime receivedst thy good things, and likewise Lazarus evil things: but now he is comforted, and thou art tormented.
26And beside all this, between us and you there is a great gulf fixed: so that they which would pass from hence to you cannot; neither can they pass to us, that would come from thence.
27Then he said, I pray thee therefore, father, that thou wouldest send him to my father's house:
28For I have five brethren; that he may testify unto them, lest they also come into this place of torment.
29Abraham saith unto him, They have Moses and the prophets; let them hear them.
30And he said, Nay, father Abraham: but if one went unto them from the dead, they will repent.
31And he said unto him, If they hear not Moses and the prophets, neither will they be persuaded, though one rose from the dead.

God graciously gives us sufficient time on this planet, in this life, to check it all out.
We should be very diligent in this important quest for the key answers of life.
Check out the other pages at my site -- listed in left hand column (above).
The game of life is for keeps -- one cannot risk being wrong.
Hell must be avoided at all cost.
USS EISENHOWER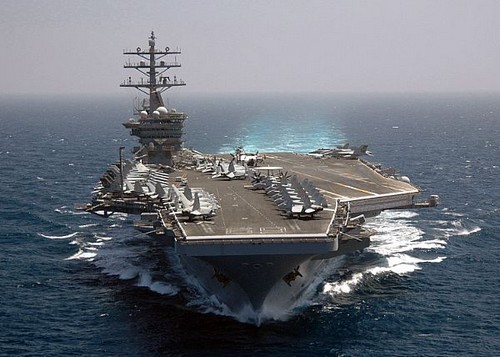 Enter supporting content here
Jesus Christ, by his life, word and actions confirmed the authority and accuracy of the Bible.

Jesus Christ said in the New Testament Gospel book of John 14:8-10:

8 Philip saith unto him, Lord, show us the Father, and it sufficeth us.

9 Jesus saith unto him, Have I been so long time with you, and yet hast thou not known me, Philip? he that hath seen me hath seen the Father; and how sayest thou then, Show us the Father?

10 Believest thou not that I am in the Father, and the Father in me? the words that I speak unto you I speak not of myself: but the Father that dwelleth in me, he doeth the works.

Most modern Bible teachers and preachers say God does not have a body, and that he is neuter.

This is horribly wrong. God is a spirit WITH a magnificent spirit body -- AND HE IS A MALE BEING.

Male and neuter are mutually exclusive. If one manages to embrace the fictitious, myth, of God the Neuter, that person automatically rejects the true God of the Bible, and of Jesus Christ WHO IS GOD THE FATHER (A STRAIGHT MALE BEING).